The Important Role Of Digital Content Strategist In The Digital Marketing Industry
As the global market evolves and finds new paths to grow in diverse aspects of business and marketing, the need for content seems to remain consistent. As a result, well-developed and under-developed businesses spend a sizable budget on content strategy.
Content strategists are in high demand across different industries. For example, as per 2021 statistics, 78% of marketers who succeeded in their marketing campaign report that they had a documented strategy.
The digital marketing strategy uses content as the vehicle for its marketing. Therefore, content marketing strategists are integral parts of a company's marketing initiative. But what does a content strategist do? What are the skills required to be a content strategist? If you find yourself asking these questions, then this article should be worth the read.
I suggest you give it a quick read if those are your queries.
Defining Who Is A Content Strategist?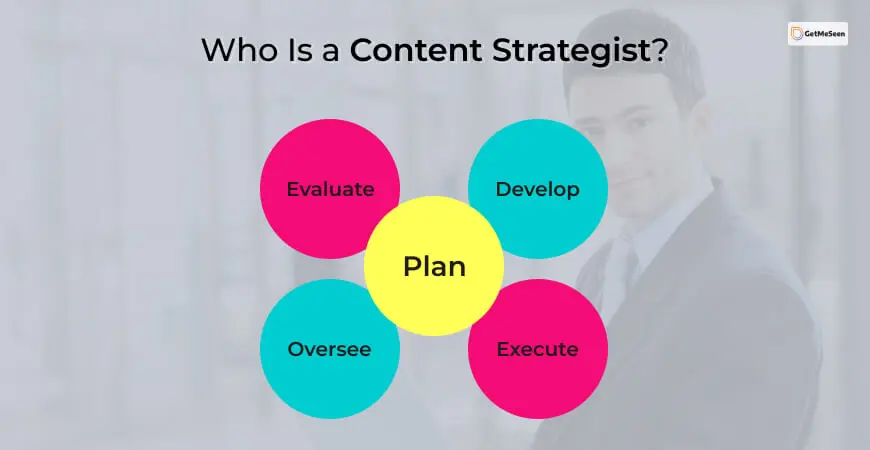 Content strategists are creative marketing executives who can plan, develop, execute, oversee and evaluate the content marketing strategy for a business. They create a strategy based on their client's and end users' requirements.
The expected end results of this creative strategist are usually generating leads. They use their extreme creative thinking and knowledge to strategies the best strategy for content marketing.
Also, they have to do a content audit and a gap analysis during the life cycle of a content marketing campaign. They are often responsible for keeping style guides and editorial calendars and maintaining budgets.
Role Of Content Strategists In The Digital Marketing Sector
The main job of a content marketing strategist is to build a connection between the business and generate leads. The most important content strategist responsibilities include creating blog content, tweets, social media content, and YouTube videos. But, these are just the surface level of a web content strategist or any online marketing strategist.
Here are details of all the responsibilities of a content marketing strategist –
Understanding the buyer's personae is a crucial part of creating a good content strategy. Whether you are B2C or b2b content strategist, you have to go through extensive market research for a better understanding of the market and the buyer's personality.
Brand and marketing strategists go through extensive research to analyze the thoughts of the end users and trends.
One of many responsibilities of a content strategist is to create a brand and business-specific content.
They also have to plan the pillars and sub pillars of content for marketing purposes.
A strategist of content marketing also needs to have good collaborative skills. They have to work with content management teams, creative groups, and writers.
They also have to oversee the tones and the writing style of the content.
A content strategist also keeps an editorial strategy to keep the content marketing campaign consistent across different platforms.
They are also responsible for budgeting for a content marketing campaign and calculating the ROI for their campaign.
The overall goal of search marketing strategists is also to oversee the performance of their campaign. They need to ensure that their strategy is generating the expected ROI.
Skills Required To Become A Content Strategist
Becoming a content strategist is not an easy task. You need to develop some creative skills efficient for marketing. Here is a detail of those skills –
Copywriting Skills
Understanding copywriting is the first skill you need to develop yourself into a professional content strategist. Your ability to plan, develop, and edit marketing content has a lot to do with your copywriting skills.
Content Presentation Skills
A business has both new and existing customers. As a content strategist, you have to be able to package content for the existing and the new customers of a business.
Content Delivery Skills
Creating and presenting marketing content are not the only skills of a content strategist. All strategies don't work for most of the content platforms. That is why understanding different delivery platforms/ content distribution channels are also important.
Content Monetization Skills
The duty of a content strategist is to be able to monetize the content they put out for marketing. They need to ensure that their content is generating the ROI they planned for. The content should be able to make the customers buy the product or services they are marketing for.
Analytical Skills
Content strategy heavily integrates with the word marketing. Unless a strategist has good analytical skills, they cannot calculate the ROI better, do a content audit, and analyze the mistakes in a content marketing campaign.
Multitasking Skills
A content strategist might have to handle several marketing projects for several products on several content distribution channels. In addition to that, they have their illustrious job of planning, creating, and overseeing a content marketing campaign. So, multitasking skills are really worth it for a strategist in the digital marketing ecosystem.
Editorial Competency
A digital content strategist often has to conduct a thorough content audit. They have to decide if content needs to be rewritten, edited, or should be kept or removed from the campaign.
These are most of the skills needed to become a good content marketing strategist. Of course, this job is challenging, and you will also need several other soft skills like –
Good organizational skills.
Team-building skills.
Having organizational goals.
Leadership skills.
Capability to work under pressure.
Attention to detail.
Frequently Asked Questions (FAQs)
I hope you have already gotten the answers to your question. However, here are some additional questions and answers to help you out with more information.
What Level Is A Content Strategist?
As a content strategist, you may have to carry out different works of planning, creating, and evaluating content for marketing purposes. It is a high-level career opportunity and one that may include planning content for different industries and on a different platform.part of this job role also involves user experience.
What Does A Social Media Content Strategist Do?
As a social media content strategist, you may have to develop a specific type of content for the targeted social media audience. You may also have to build social media ad campaigns for businesses and get the most amount of customers engaged in your campaigns.
Is Content Strategy A Good Job?
The requirement of content and content marketing strategists is increasingly high in today's time. Due to the excessive demand for this job, a huge number of creative individuals are aiming for this job role.
Conclusion
Creating content consistently and generating leads through a strategic content marketing plan is not easy. There are other challenges, like understanding different types of buyers' persona, finding out the most suited content distribution channels, and producing high-quality content in suitable formats.
But, if you have the skills mentioned here, and are able to fulfill the responsibilities as well, then you have a well-paid job opportunity ready for you. Did you find this article informative? Please share your feedback with us in the comment.
Read More: