10 Ways To Grow Your SEO Ranking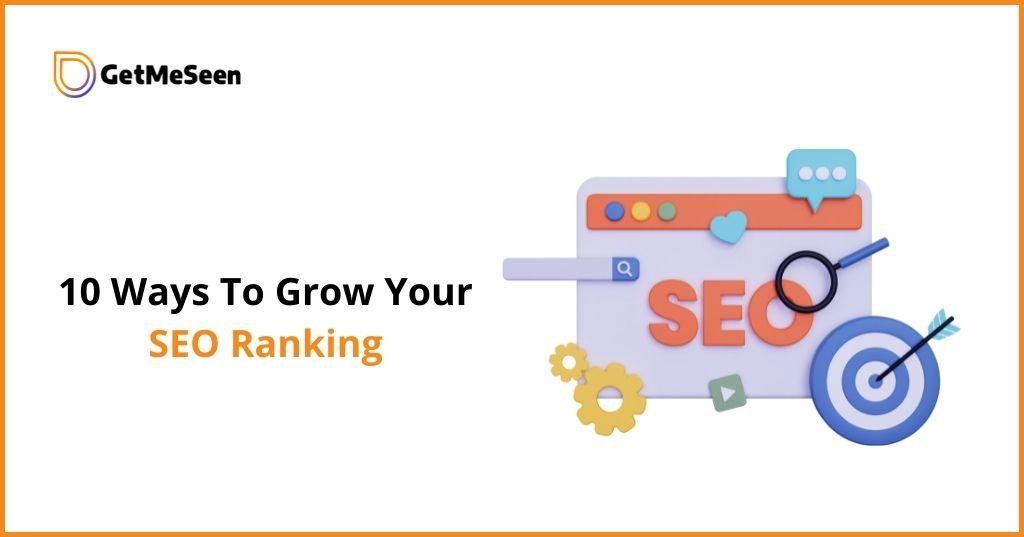 The need for SEO ranking is very prominent in today's business time. For example, law firms, healthcare businesses, real estate, and marketing businesses need SEO ranking services for more organic traffic.
Organic traffic stimulates business growth for businesses that avail SEO services. In addition, the unpaid traffic a website gets from search engines like Google and Bing improves its ranking in the SERP.
A website needs SEO for permanent google ranking, growing authority, and more conversion rates. SEO experts work to gain more traffic from a specific targeted audience, helping a business in the process.
If you are doing SEO yourself or just learning, here are some tips to help you boost your website's ranking in the SERP.
Grow Your SEO Ranking: 10 Ways
In this article, I have mentioned top SEO ranking factors that should help you rank higher in the Google search engine. However, once you start implementing these tips into your website, you can see improvement using an SEO ranking checker.
The first tip to get a better SEO ranking for your website on the Google SERP is to Improve the page speed.
If your page speed is slow, it will have a negative impact on the readers. Once visitors click on your page, they will probably revert if the page takes too much time to open. Visitors' engagement to your page is essential for growing your business, and the visitors going away from your page sends a negative message to Google.
Google's algorithm also looks at the page speed of your website. If it is slow, Google will lower your website and send it lower in the SERP.
If the page loading speed of your website is adobe 3 seconds, people will usually revert from the website. Therefore, I recommend having a page speed below 3 seconds or around 2 seconds. You can use the free website page speed checker GTmetrix or PageSpeed Insights to check the page speed.
If your web hosting provider is the reason behind the slow pace, you can always switch back to a new and faster host.
Another crucial trick to getting a better ranking in the SERP is producing content with high-quality info and relevant topics.
If you haven't touched your website after its birth, you cannot expect the ranking to be higher. Therefore, it is crucial to post content regularly on the website.
The on-page time of the visitors to your website has a crucial impact on the SEO ranking.
So, what is on-page time? It means how much time the visitors spend on the website. If you upload good quality content that is fresh, relevant, and necessary in contemporary times, people will keep visiting your website and will stay engaged with your content.
With regular and quality content publishing, your visitors will regularly come to your website. The engagement will soon turn into the visitors bookmarking your page.
The more and more your page gets bookmarked by the readers, your SEO ranking will increase. So, the regular and regular and relevant content is the key.
Images are important as they make your website visually appealing and make the content more appealing.
But, you could improve the image SEO for better search engine ranking. For image SEO, the image file size and the file formats determine the ranking of a website.
If the image size is large, the page loading speed will go down, and I have already explained what happens if the page load speed goes down. It decreases your google ranking.
You can compress the image and resize it for better SEO ranking. If the image size is optimized, your website traffic will remain consistent.
Another image SEO trick is to rename the image file using the targeted keyword you are using in your content. Often, through image SEO, you can rank your website higher.
For instance, if you're uploading content about "ten best smartphones in 2022", you can use that keyword on the image.
Your visitors don't like to read an essay with only the title. Most of them are here for the quick info that your content offers. Using the headings, you can make their reading experience quicker, more informative, and more appealing.
If you post a long essay, the visitors will get demotivated and skip your page. As a result, it will hurt your ranking.
You can use header tags for different sections of the content. You can break your content down into several pieces helping the reader grasp each section of the content at a time.
Written Texts Are Not Enough
It is good if you are posting regular content. But are you only posting text-based content? Yes, words mean a lot, and they are the best medium of relaying information.
But, you can make it more interesting and quicker for the readers by adding images, videos, and slideshows to the content.
You can use infographics, images related to your content, and videos on your website to make the visitors' experience better on the website.
If you use videos and images on the content, the on-page time of the users will increase on your website. Therefore, it will result in a higher SEO ranking of your page.
If you want a better page ranking, you can start blogging.
Blogging improves your website's SEO ranking. You can start blogging and offer valid and relevant content to the audience; doing so will help you improve your search ranking.
Blogging will help you attain a set of loyal readers. Then, as you start posting fresh and relevant content on the website, you can use the headers, links, and target readers using keywords.
As more and more readers engage with your content, Google will value your website. As a result, your page ranking will increase.
Optimize Your Website For Mobile Users
A major percentage of internet searches are done using smartphones. So, if you want more traffic on your website, you must make it mobile-friendly.
Many websites are only for web users who access the internet using a computer. But computer users alone are not enough for getting the highest amount of search numbers for your website. As a result, these websites will have lesser followers and engagement than the mobile-optimized site.
Optimizing your website for mobile users is another google trick that will help you with better SEO ranking.
Long Content Is Always Better
You can attract more readers with more info. However, if your content is usually 500 words, you cannot expect it to compete with the 1000 or 2000 articles with more information than yours.
You can make the content length and add more info than your competitor's websites.
You can put more info into it if you have shorter existing content, with charts, graphs, and charts that compliment the post.
Is Your Site Readable?
Whether your blogging site is readable or not has a lot to do with your site's ranking. When writing content for your site's audience, you need to keep your audience in mind.
Make sure that your content does not sound too rigid and does not have too many complex wordings. Your writer persona should understand the readers' point of view and write in a way so that they can understand.
By making the content easy for your readers, you can improve your SEO ranking.
Infographics For SEO Ranking
Infographics can make the reading journey of your website visitors easier and quicker. It is a smart way of getting the readers to like your website's content.
Once you have high-quality long content with SEO-optimized images and videos, you can add these infographics to the content and add more possibilities for better SEO ranking. 
Bottom Line
SEO ranking factors keep changing with the latest google algorithm updates. As a result, one SEO strategy you are following today may not work after one or two months. So, you need to keep track of the latest Google updates.
However, these SEO factors are some of the most basic and primary tricks for getting a better SERP ranking for your website. Following these tips will always help you get a better ranking on the search engine.
Also Read: