The Evolution Of Marketing: A Deep Dive In History
From a one-way sales approach to a more intricate ecosystem with customer-company reciprocal relationships and brand awareness, marketing has truly come a long way.
In this article, we are going to take a step back and look at the 120 years old history of marketing and how it evolved to what it is today.
Evolution of Marketing: The History!
In the past few decades, in the early 20th century, marketing was more about informing the few potential customers about a certain product and its features, it was more of one-way communication.
What Do You Mean By Evolution Marketing?
Marketing evolution is the term used by businesses to explain the innovation that they have gone through over a long period of time.
Throughout these phases of time, these businesses have innovated, experimented, and created new techniques of marketing that are benefiting them.
Through these innovations, they have increased revenue and yearly sales and created new partnerships.
What Causes Evolution In Marketing?
There are primarily two reasons that cause a marketing structure to evolve, and they are.
1. Modern Technology
When this field of marketing first came into being, the only feasible option to conduct it was through printing on paper and illustration. And the only way of communication was through handing out pamphlets in-person and store displays.
But if you speed up a few decades, gone are the days of just in-person and store display marketing. Digital marketing has taken a center stage now, with everything happening online or through social media platforms.
2. Customer Demands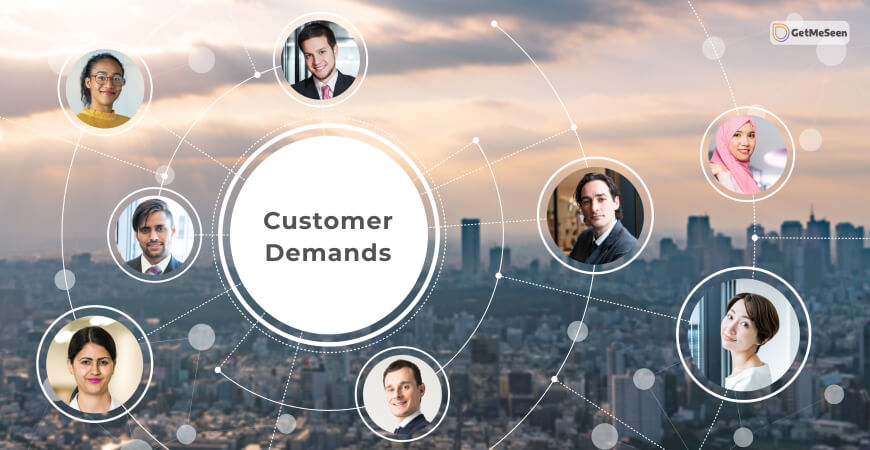 Do you know what consumers are demanding currently? Is it different from what they demanded a week ago? Do you know what they can afford now that they couldn't before? Knowing the answer to these questions and also keeping up with them are what comprise customer demand.
You need to understand that if you can't keep up with these demands, your competitors are surely going to.
Different Stages In The Evolution Of Marketing?
Over the years, there has been a lot of debate over the exact strategies marketers have used to improve their business strategies. These strategies have helped them to connect the consumers with the product.
Here are the different stages of marketing; that is very important to know the evolution of marketing.
Production Era
Sales Era
Marketing Era
Relationship Era
1. The Production Orientation Era
The production era of marketing started right after the Industrial revolution began. This gave rise to the availability of raw materials, and this prompted the rise of mass production. At this time, products were being produced at a very low cost. The mindset of this time was, "If Produced, Someone Will Buy."
Advertisements were not very relevant at this time as well. This is why Henry Ford said," If you have a really good thing, it will advertise itself." His company mainly focused on being highly informational, text, quality, price, and also standardization.
This form of marketing taken by Ford led to the ceasing of advertisements. He stopped all advertisements from 1917 to 1923.
2. The Sales Orientation Era
A production-based marketing strategy works great when you have no other competitors in the market, but not when you have competition. To come out on top in this competitive environment, companies had two strategies in mind.
Brand Identity is important.
Emphasize more on selling.
Coca-Cola came out on top during this era by attaching itself to Santa Claus. When in the 1920s, they were not selling enough soda during the winter months, Ford's production approach was not working for them.
They then decided to create a brand identity for themselves, and who better than to choose Santa Claus as their brand ambassador for the winter sales? They choose the image of Santa Claus to attract the audience. And with the help of illustrator Haddon Sundblom, they created memorable ads in 1931.
3. Marketing Orientation Era
Marketing was always a present since the industrial revolution, but it was mostly focused around convincing the customers to purchase certain products.
But it was since the 1980s the approach to marketing changed for good. It was no more persuading customers to buy things, not the customers were in charge of the purchase.
Now marketing has become more focused and intelligent. Marketers are focussing on the needs and desires of customers and what they actually want. This new approach towards marketing was first implicated by Apple when they announced their new Macintosh personal computers during the 1984 Super Bowl.
Apple showed in the 1984 advertisement that there is more than just showing the product in your advertisements. They evoked a sense of mystery and intrigue in the consumer's minds.
4. Relationship Orientation Era
Since the 21st century rolled out, the marketing strategy has evolved a lot and with time it prioritized relationships. The marketing approach is more focused on encouraging consumers towards being loyal to the brand.
Marketing has also shifted from the more traditional forms to digital modes. Social media has been a big part of marketing and advertising for brands and companies.
Other than brands building a social relationship with their customers, they also have a responsibility towards society at large. Through various incentives. In charities and media campaigns, the brands make themselves highly accessible to consumers.
Evolution Of Digital Marketing
While discussing the evolution of marketing, needless to say, it is very important to mention the contribution of digital marketing throughout the evolution of marketing. It's a way of promoting services and products on digital media.
Digital marketing is just like any other traditional form of marketing where the goal is to create brand awareness, and creative marketing campaigns and generates more and more traction among the target audience.
There are certain milestones that digital marketing has gone through over the years.
1. Search Engines Are The Key
With the onset of the World Wide Web in 1991, search engines are working by crawling through web pages. The search engine uses certain keywords to search for certain items.
2. The Onset Of Social Media
Social media is one of the most important mediums of communication and marketing. With a variety of consumer bases, social media is one of the best platforms to advertise and promote your brand.
Big platforms such as Facebook, Instagram, Twitter, YouTube, and LinkedIn, are one of the biggest platforms for social media marketing.
3. Mobile Marketing Comes Into Play
Mobile marketing is a big accessory for digital marketing. It is important for brands to create their websites to be more mobile-friendly and easily accessible through mobile phones.
4. Consumer Targeted Campaigns
One of the major evolutions of digital marketing is that marketing became more data-oriented with more targeted marketing. Through this data, the brands create a more focused marketing campaign.
5. Voice Search And Interactive Content
It is becoming very important that a brand should not be only about selling the product and service. Brands need to be more interactive with their consumers. It is more about being interactive through social media chat rooms, games, and certain campaigns.
Frequently Asked Questions (FAQs)!
Here are a few other questions related to the evolution of marketing, that others have been asking, that might help you.
1. What Are The 5 Stages Of Marketing Evolution?
Here are the 5 stages of marketing evolution that have been observed throughout the years.
⦾ Production Orientation Era.
⦾ Product-based Orientation Era.
⦾ Sales Orientation Era.
⦾ Marketing Orientation Era.
⦾ Relationship-based marketing Orientation Era.

2. What Are The 5 Types Of Market?
There are 5 different types of markets that we can observe and they are.
⦾ Perfect Competition.
⦾ Monopoly.
⦾ Monopolistic Competition.
⦾ Oligopoly.
⦾ Monopsony.
3. What Are The Features Of The Evolution Of Integrated Marketing Communication?
The features of Integrated marketing communication are as follows.
⦾ The shift in promotional expenditure from traditional to non-traditional media.
⦾ Usage of Internet and Social Media to Communicate.
⦾ Growth of Database Marketing.
⦾ Marketplace power with the retail industry.
⦾ Greater accountability is asked from the advertising agencies.
Wrapping Up!
With time like everything, it is obvious that the market structure is also going to change. Nothing can stay static with time. The evolution of marketing is something that shows intelligence and innovative thinking and intelligence.
Read More: